Developed to manage, store, and deliver data from various types of medical equipment, Cambio CIS is a comprehensive IT support system for anesthesiology and intensive care Patient Data Management Systems (PDMS).
Cambio CIS is developed for anesthesiology and intensive care units as well as for research applications. The system provides clinical personnel with comprehensive, patient-centric data overviews and fast access to accurate, cross-disciplinary data.
One Patient, One View
Cambio CIS facilitates the cooperation between different healthcare providers, units, and areas of responsibility. We have developed Cambio CIS in close collaboration with intensive care units as well as anesthesiologic and post-operative units.
Solutions for Life
Implementing Cambio CIS is an important step in the digitalization process of healthcare providers. Sharing data between different units will be a great step towards standardized healthcare. Cambio CIS integrates with leading healthcare IT systems and is undergoing continuous development to live up to the business demands of our customers.

IT support for Anesthesiology and Intensive Care Journals
As a comprehensive IT support system, Cambio CIS
Supports your digitalization strategy
Enhances standardization of healthcare
Integrates with leading healthcare IT systems and is undergoing continuous development
Cambio CIS
The system consists of modules that are adapted to various care units:
Information System for Intensive Care Units (ICU):
Information System for anesthesiology units (AN):
Detailed data extraction for healthcare IT:
One solution across departments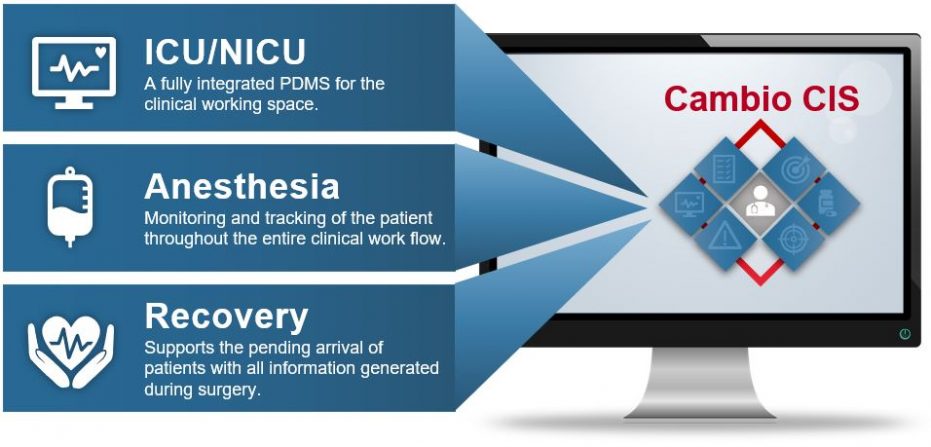 Odense University Hospital in Denmark has relied on Cambio CIS since 2005