March 25, 2021
"Jag är så stolt och jag vill verkligen hylla alla våra fantastiska medarbetare." säger Peter Gille, VD på Cambio. "Utmärkelsen känns extra speciell just i år. Det är ett bevis till var och en som jobbar på Cambio. Ni är Sveriges bästa medarbetare!"
För andra året i rad har Cambio placerat sig på topp 15-listan över Sveriges Bästa Arbetsplatser i kategorin "stora organisationer 250+ i Sverige". Utmärkelse delas ut av Great Place to Work och bygger bland annat på en grundlig analys av arbetsplatskulturen.
"Det som präglar den goda stämningen på Cambio är tillit och kamratskap och en känsla av att vi åstadkommer väldigt mycket bra tillsammans. Vi arbetar med produkter som gör nytta, både för samhället och för den enskilda individen" fortsätter Peter Gille.
På Cambio arbetar vi målmedvetet med värderingarna och med att skapa en trivsam och utvecklande arbetsplats. Vi har varit certifierade av Great Place To Work sedan 2017.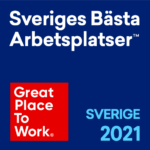 Vi på Cambio har en sak gemensamt – vi vill förändra och förbättra hur vård och omsorg levereras. För även om mycket har förändrats vet vi att det som var viktigt förut, är lika viktigt idag. Tillit. Omtanke. Att finnas där för varandra – och våra kunder. Det är så vi gör skillnad.